Ford Mustang Billet HVAC Knobs
MSRP $59.99

Designed to replace the boring stock plastic Heating, Ventilation, and Air Conditioning controls of your 1990 to 2004 Ford Mustang, Steadfast Auto's Billet Aluminum HVAC Knobs are an exciting addition to any Mustang interior. This easy to install kit includes three replacement knobs designed to perfectly replace the Fan Speed, Temperature, and AC/Heat/Vent/Defrost selector controls in your Ford LX, GT, V6, V8, Cobra, Bullitt, or Mach1 Mustang.*
Many competitors use cheap and inferior materials and shoddy "craftsmanship", cutting corners to save a few pennies. At Steadfast Auto, corners are never cut. These Mustang HVAC Knobs are Precision Machined on a Professional CNC Machine out of solid 6061 Billet Aluminum and then Triple Chrome Plated for a durable and long-lasting finish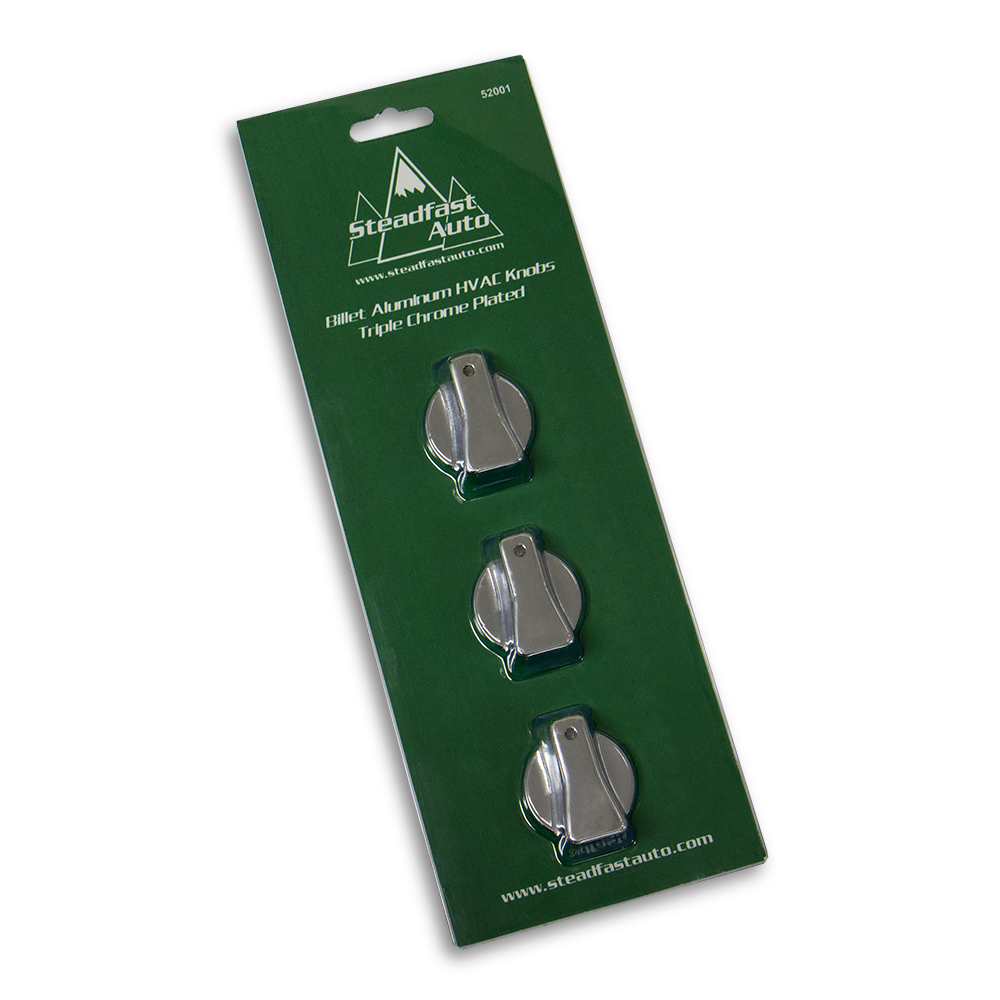 SteadfastAuto's minimalist approach to packaging design is not only environmentally responsible, but also reduces final product cost to you without compromising the product itself. What this means to you is that Steadfast Auto's Mustang HVAC Knobs are the absolute best you can buy for your Mustang with no compromise!
To locate a Steadfast Auto Billet HVAC Knob Dealer please visit Steadfast Auto Authorized Dealers.
Features:
• CNC Machined 6061 Billet Aluminum
• Triple Chrome Plated Finish
• OEM Fit with Illumination Jewels
• Fits 1990-2004 Ford Mustangs
• 1 Year Warranty
*For Ford Mustangs with manually operated HVAC controls only; Billet Knobs will not fit vehicles equipped with automatic climate control!